One of our most powerful qualities as human beings is our ability to adapt. We are a resilient species. Our innate ability to push the mundane into "auto-pilot" is what allows us to free up mental energy for being creative and securing our position at the top of the food chain.
As soon as we are on autopilot, our guard comes down. We forget about how diligently we need to maintain our health, e.g., washing our hands often. We forget about the importance of not touching our faces and likely don't even notice that we've done it. We are too busy finding ways to pivot our business in the face of a new era, busy teaching our kids at home, busy worrying about paying our bills. Our superpower suddenly becomes a handicap that allows viruses like COVID-19 to be such a formidable opponent. 
Yes – The studies for vaccines are promising. Our elected officials continue to work hard to get us as much testing and treatment opportunities they can. Many are recovering from the virus and we have a light at the end of the tunnel.
That is by no means a window to relax. With the rest of the globe gradually reopening, the chance of a Covid-19 resurgence is high. We have to be diligent throughout the entire day, every day, to prevent this virus from regaining traction.
To help us all get back to normal while staying safe, we've collected transportation-specific instructions to mitigate COVID-19 instructions for you.
For Site Managers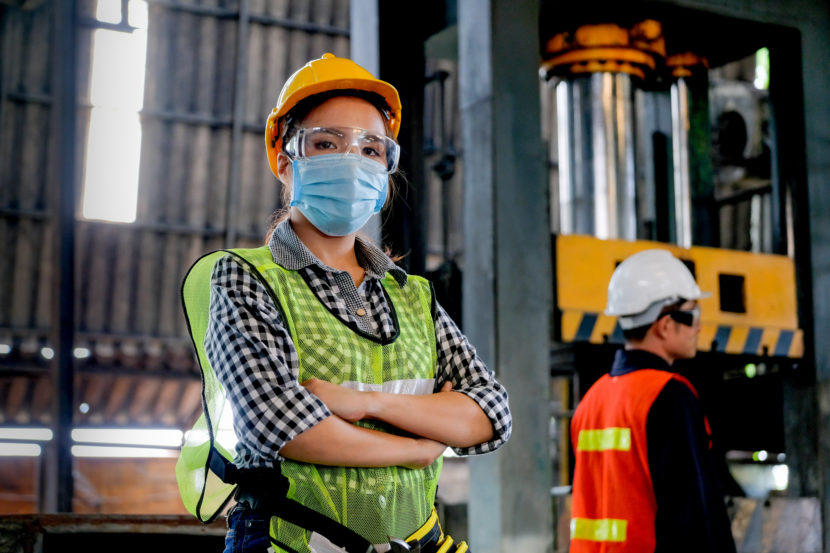 The responsibility remains primarily on the drivers of these trucks, but everyone can always use a reminder. Don't hesitate to speak when others are being negligent about social distancing or PPE's. These measures are in place to protect you and your family, and is no matter to take lightly.
Urge everyone you come into contact with to stay 6 feet a way and wear appropriate protective gear during interactions. Manage interactions by phone or email whenever possible. Use services such as Adobe Acrobat or Docusign to manage digital signatures instead of passing out paper copies. 
Site manager will not accept anyone putting her team at risk.
For Fleet Managers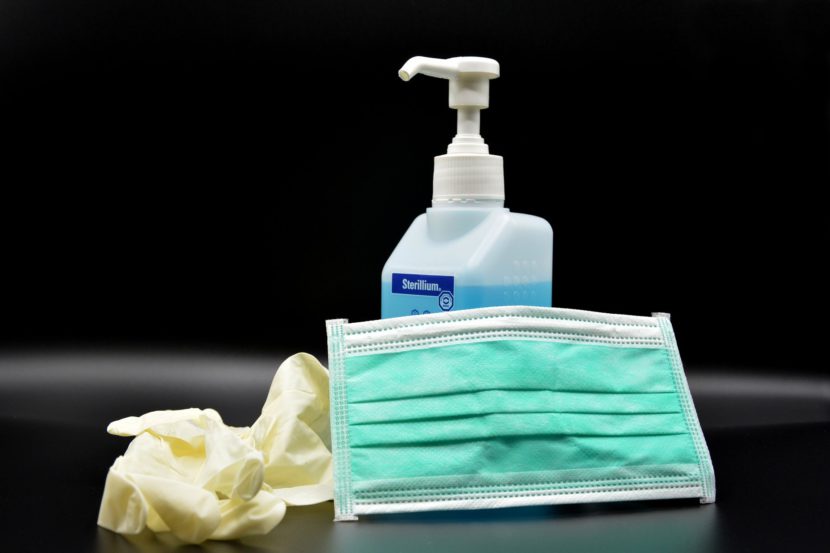 Minimize the number of trucks shared by drivers. If possible, restrict one truck per driver. If this is not practical for your business, be sure to fully sanitize frequently touched surfaces of the vehicle thoroughly.
Provide your drivers with the appropriate disinfectants, hand sanitizer, personal protective equipment, and other material needed to clean high-touch surfaces in their trucks and implement recommendations made in these guidelines. Should they collect the supplies themselves, please make sure that the items they chose meet the guidelines.
These measures will minimize the risk of exposure which may put your valuable employees out of commission with sickness. 
For Truckers
Before Each Trip
Monitor your health regularly. If you are experiencing symptoms, even if it's only a mild cough and/or stomach distress, you should stay home and advise your supervisor or the office manager, so steps can be taken to protect others.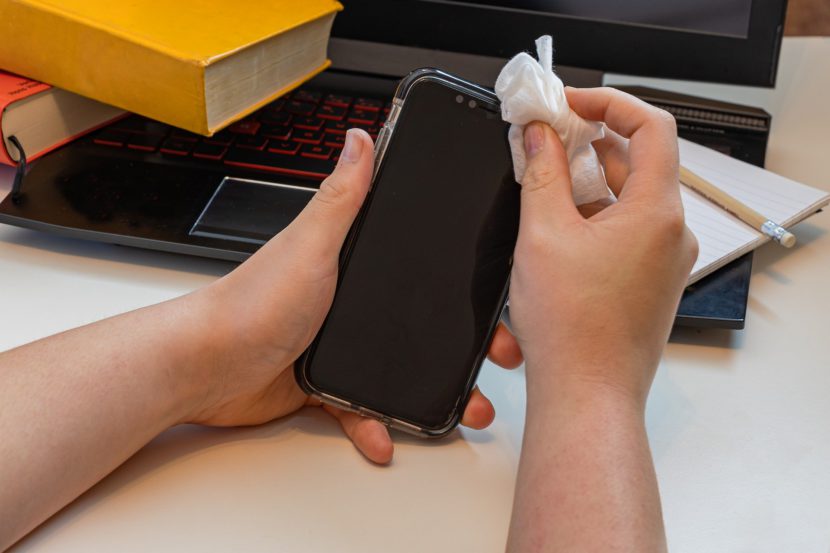 Sanitize your phone, or better yet, protect your phone from contamination by using a waterproof phone case covering and sanitize that instead.
The following equipment should always be available in your vehicle for cleaning:
Personal protective equipment;
Disposable rags;
Paper towels and absorbent materials;
Trash bags, labels and tape;
Cleaning agents; and
Disinfectants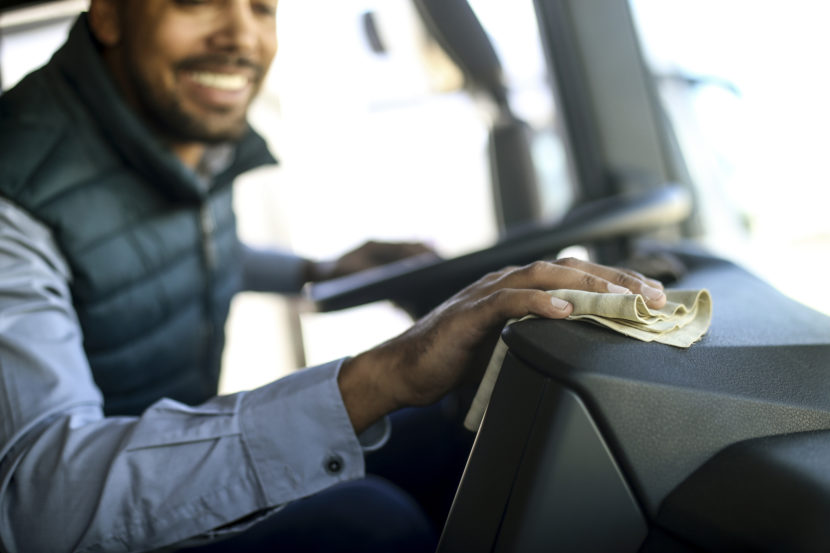 Clean vehicle interiors, especially if you work with a shared vehicle.
Put on disposable, water-proof gloves. Avoid hand contact with the face, especially the nose and eyes. Direct contact with contaminated areas should be avoided.
For routine cleaning and disinfection, and for areas potentially contaminated with COVID-19, a hard-surface disinfectant is recommended.
Avoid bleach except on simple plastics.
Wipe off what you wipe on; don't leave chemicals to linger.
High touch surfaces that should be regularly cleaned (e.g., wiped with disinfectant) include but are not limited to:
Keys and FOBs;
Starter button on vehicles with FOBs;
Inside and outside door handles; Inside door grab handles, pads and armrests;
Steering wheel;
Shift lever and console;
Dashboard;
Power window and power door lock switches;
Radio and climate control buttons;
Turn signal and wiper stalks;
Seat and Seat adjuster;
Touch screen; and
Any other parts that are commonly used and that may have been touched (eg. glove compartment, hood, trunk, van panel door handles, pick-up tailgate handle, sleeping areas).
Dispose of dirty rags, disposable gloves and any other disposable items in contact soiled surfaces or respiratory droplets (eg. from a cough or a sneeze) in a trash bag.
Wash hands when finished using warm water and soap, using proper hand washing techniques (e.g., washing for at least 20 seconds upto your wrists)..
During the Trip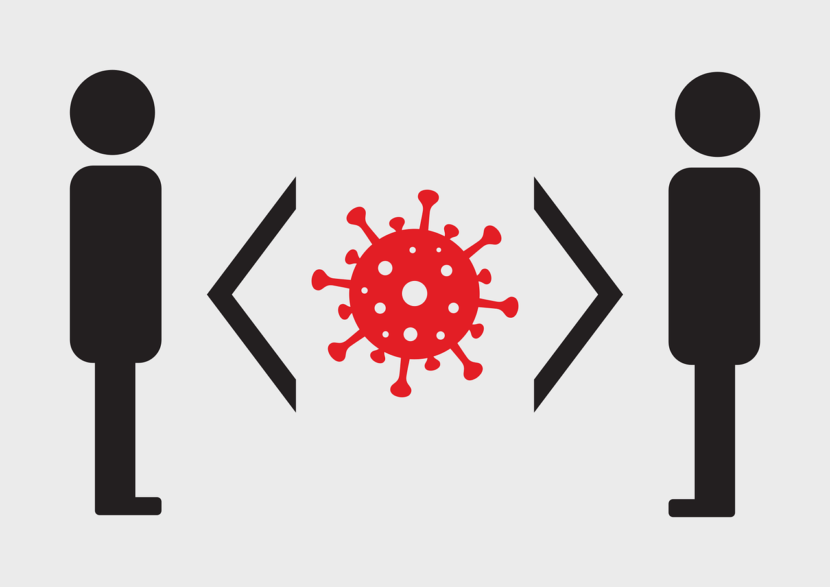 Take advantage of stops with bathrooms to wash your hands frequently under warm, running water with soap for at least 20 seconds, and avoid touching your face with your unwashed hands. This is especially important after coming in contact with other people or surfaces that may carry the virus. When soap and water is not available, a 60% + alcohol based hand sanitizer is recommended until you get access to running water and soap.
Take precautions, such as covering hands when pumping gas, touching the service station door handles, or handling any automotive products that may be required when performing vehicle maintenance, such as filling windshield washer fluid and adding motor oil, if this is possible. If it is not possible, drivers should wash their hands or apply hand sanitizer immediately after.
Practice social distancing by staying at least six feet away from other people and avoid direct physical contact (including handshaking). This includes contact with customers, receiving staff and those at rest stops.
When exchanging documentation, wear gloves while collecting them and signing with pens. Be sure to return pens to their owner, change gloves before retouching sanitized surfaces, and do not touch your face with the gloves.
At the End of the Trip
Wearing gloves, take a photo of the signed tickets and documentation to upload or email as needed, and discard or secure the possibly contaminated documents in a container. Some strains of Covid-19 can live up to 5 days on paper.
Discard gloves and repeat a thorough cleaning of high-touch surfaces with appropriate disinfectants as described above. Make sure to sanitize your phone with 70 percent isopropyl alcohol wipes.
Drivers who start to experience COVID-19 symptoms after completing a trip should stay home, self-isolate, and advise their employer, so that additional steps can be taken to protect co-workers and other drivers using the truck.
If it seems burdensome or excessive, you are not alone. However, it is a small price to pay for the privilege of returning to our day-to-day lives and keeping ourselves and our loved ones safe! This crisis will pass, and our diligence gives us the best possible chance of surviving it with our quality of life intact.